Monthly Online Quiz for Student Teachers
Teacher Education College Librarians' Forum (TECLib Forum) is jointly organizing with the prominent Teacher Education Colleges in Kerala a Monthly Online Quiz series for the B.Ed. and M.Ed. students.
We are planning to conduct Online quiz through Quizziz platform at the end of each month. Any number of students from the participating institution can join. Current affairs and the educational updates of the current month will be the area for the questions. Printed certificates will be given to the winners. At the end of the academic year, the top student will get a cash prize and a Certificate.
The institutional organizers are
Karmela Rani Training College, Kollam

Mount Tabore Training College, Pathanapuram

NSS Training College, Pandalam

Peet Memorial Training College, Mavelikara

Titus II Teachers College, Thiruvalla

Mount Carmel College of Teacher Education, Kottayam

St. Thomas College of Teacher Education, Pala

SNM Training College, Moothakunnam

St. Joseph's College of Teacher Education for Women, Eranakulam

Farook Training College, Kozhikode

Keyi Sahib Training College, Kannur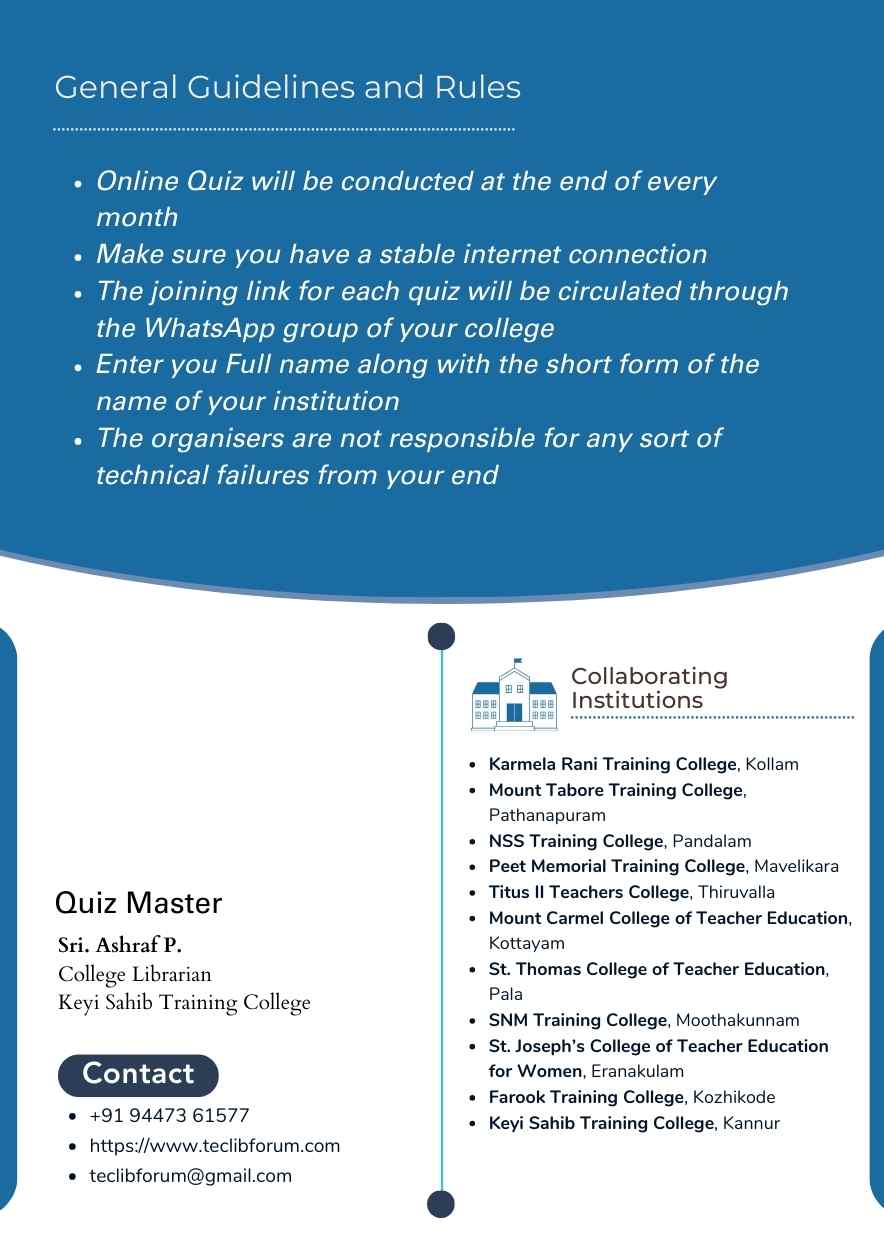 1

Online Quiz will be conducted at the end of every month

2

The joining link for each quiz will be circulated through the WhatsApp group of your college

3

Enter you Full name along with the short form of the name of your institution

4

Your response time also counts.

5

Make sure you have a stable internet connection

6

The organisers are not responsible for any sort of technical failures from your end
https://quizizz.com will be the platform for the online Quiz. The participants only need a Mobile phone and an active internet connection
Quiz Master
Ashraf P.
College Librarian, Keyi Sahib Training College, Thalipparamba